autres Collection 1100cm3:
modèles Collection 1100cm3:
Annonce Collection KAWASAKI Z1000 1100
recherche libre

Recherche avancée

Imprimer

Flux RSS

Facebook

Twitter

Ecrire au vendeur
recherche rapide
recherche avancée
Imprimer
Cliquez ici pour imprimer cette annonce.
Flux RSS
Soyez informé lorsque de nouvelles annonces "KAWASAKI Z1000" sont disponibles en vous abonnant aux flux RSS !
S'abonner
Facebook
Recommandez cette annonce :
Twitter
Partagez cette annonce sur votre reseau twitter!
Ecrire au vendeur
Pour contacter le vendeur, remplissez le formulaire suivant :
Le vendeur reçoit par email votre message et vous répond directement dans les meilleurs délais
Nos conseils d'achat :
N'hésitez pas à demander le maximum d'informations techniques sur la moto, les modalités de paiement et de livraison ainsi que des photos complémentaires pour vous assurer de l'état du véhicule en vente.
Kawasaki
Z1000
(83) Nussdorf im Chiemgau
REF1197786 - publié le 11/09/2021 par (Pro.) - signaler une arnaque

Estimez vos frais d'assurance
| | |
| --- | --- |
| Catégorie | Collection |
| Cylindrée | 1100cm3 |
| Millesime | Année 1982 |
| Mise en circulation | N.C. |
| Kilométrage | 1 km |
| Couleur | N.C. |
| Garantie | N.C. |
Observations
Sensation:. . A 1982 Kawasaki Z1100ST A3 Shaftdrive brandnew - never registered, never restored, never ridden - so we are talking here from a new 39 year old (July 1982!) untouched classic musclebike! Imported ages back from the US (thats why she is named KZ, have a short fender and a mph odometer). . . The A3 with the green clocks is the best ST - and the rarest. Opposite to the former A1 and A2 models she have nicer clocks, a NON electronic odometersnail wich made some problems in her era.. . Motor been never started, still the conservation oil inside. Still first tires on the rims. Tires not even cracked due age becouse this bike been stored for ages in the. LIVINGROOM from a hardcore petrolhead.. . This is a unique opportunity to get one of the strongest muscle bikes in this state. The ST have the legendary engine from the GPZ1100 Unitrak, just slightly modified. from factory to give her more torque in lower rpm's that motor fits better to a big tourer.. . I had a few STs myself and its the best sporttourer in my eyes. Even if heavy this bike rides like a Moped. It have the comfyest seat I know from bikes and is sheer joy to ride this bomber. She pulls like a train, have a great suspension for this era and really good working brakes and the most comfy seat I ever sit on.. . If you want to collect this bike its for sure a bulletproof and good investment. You can't lose here. If you want to ride it we can reactivate her with new fluids, tires etc. for a minor upprice.. . Becouse this bike been never registered she have no title. But you get a proper invoice and a confirmation from Kawasaki about the matching numbers and the production date for easy registration.. . Bike get sold like she is. Mirrors not mounted on the photos but there and included. UIf buyer wants bike can be reactivated here with new fresh tires, big maintenance, new battery etc. for a upprice.. . THIS TRUE MONSTERBIKES WILL NEVER COME BACK! . . Delivery to France and any other EU country in a closed van no problem. Transport to France. 295 Euro.b Other countries please ask for quote.. . Please get more info and more pictures of this and other classics at my site.. Thanks for looking and don't hesitate to ask me with any questions you may have and please check my other bikes here.. . Igor
Retourner à la liste d'annonces
Informations sur le vendeur
Pro.
83665 - Nussdorf im Chiemgau (Provence-Alpes-Cote D'Azur)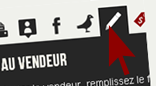 Autres moto occasion de la marque KAWASAKI